Faculty Profile
Aysegul Durakoglu
TEACHING ASSOCIATE PROFESSOR, MUSIC & TECHNOLOGY
Building: Morton
Room: 108
Phone: 201-216-5081
Fax: 201-216-8245
Email: [email protected]
Website
School: College of Arts & Letters
Department: Music & Technology
Program: Music & Technology

Education
Ph.D., New York University
M.M., Juilliard School of Music
B.M., Mimar Sinan University, Istanbul State Conservatory
Research
-History of Tango in Distant Lands: A Comparative and Structural Analysis
-Musical Perception and Response
-Music of the Eastern Mediterranean Region
-Contrapuntal Lines and Rhythmic Organization in Claude Debussy's Piano Music
-Multi-Cultural Aspects in Turkish Music
General Information
Recordings: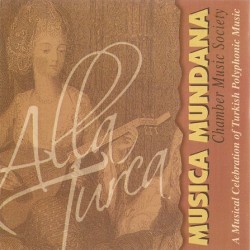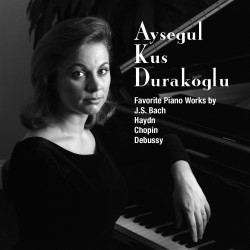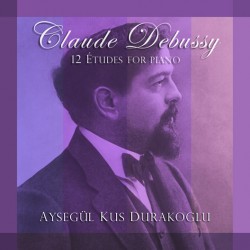 Dances through the Keyboard, 2016
Twelve Piano Etudes of Claude Debussy, 2011
Favorite Piano Works, 2009
Alla Turca, 2006
Performances:
Radio Interview and Performance at Cazkolik, Istanbul, January 2016.

Solo Performance at Shangri-La in Istanbul, December 2015

Lecture-Recital on Debussy's Piano Etudes: Novi Sad, Serbia, June 2015
Program and Interview in "Miniatures": TRT Istanbul Radio Station on July 8, 2014.
Performance of solo piano works of Turkey's leading electronic music composer Ilhan Mimaroglu: The International Ankara Jazz Festival, June 14, 2014.
"From Bach to Buenos Aires" at the Classical Concert Series of St. Peter's Church in New York City, May 26, 2014.
Solo Recital at the Goethe Institut in Boston, April 19, 2014.
"Without Music, Life Would Be a Mistake," Lecture-Recital on the Music of Nietzche presented by Dr. Yunus Tuncel and Aysegul Durakoglu: The University Seminar Series at the Stevens Institute of Technology, April 4, 2014.
An Evening of Piano and Dance Music: The Samuel C. William Library, Stevens Institute of Technology, November 22, 2013
A Musical Journey with the Orient Express: Grand Hall at the Pera Palas Hotel, Istanbul-Turkey, September 6, 2013
Rhythms and Dances with Musica Mundana: Series of Latin American Music at Drom in New York City, May 23, 2013
Music of the Sephardic and Turkish Cultures: The Embassy of the Republic of Turkey in Washington DC, March 21, 2013
Songs and Dances from Distant Lands: DeBaun Auditorium at the Stevens Institute of Technology, November 28, 2012
A Musical Journey with the Orient Express: The Allen Room at the Frederick P. Rose Hall, home of Jazz at Lincoln Center, June 2, 2012
Experience
Since her acclaimed New York Debut Recital, Aysegul Durakoglu has been concertizing as soloist and chamber musician nationally and internationally. She was featured as soloist in the International Istanbul Music Festival with James Galway, 2014 International Ankara jazz Festival, Contemporary Music Festivals in Russia, Musical Intersections and International Niagara Chamber Music Festival in Canada, Borges Cultural Center in Buenos Aires, and recently participated in the World Piano Conference 2015 in Serbia. She has also appeared as soloist with major orchestras in Turkey and has been featured in radio and television programs in the States and abroad.
Aysegul began her musical life in Istanbul and received her Bachelor of Music degree at the Istanbul State Conservatory. As a recipient of a scholarship, she came to the United States to pursue her graduate studies. She received her Master's from the Juilliard School and a Ph.D. degree with notable distinction at the New York University where she also served on the piano faculty. As a member of the NYU Chamber Music Society she premiered numerous works at Merkin Hall and won the NYU's Chamber Music Special Award.
Durakoglu has been the director of the Chamber Music Society, Musica Mundana and has presented chamber music programs in major venues like the Jazz at Lincoln Center in NY, Merkin Concert Hall, and Jumeirah Pera-Palas in Istanbul. Most recently, she has released an album titled "Dances through the Keyboard" featuring the piano works of Bach, Chopin, and Debussy. Dr. Durakoglu has been a faculty member in the Music and Technology Division of CAL, at the Stevens Institute of Technology.
Professional Service
Professional Concert Pianist: International and National Venues
Teaching Associate Professor, Stevens Institute of Technology, 2010-Present
Artistic Director, Musica Mundana, Chamber Music Society, 1998-Present
Visiting Lecturer, Stevens Institute of Technology, 2005-2009
Adjunct Faculty, New York University, 1992-1998
Director and Instructor of Piano, Studio di Musica, Hoboken, 2003-Present
Honors & Awards
NYU PhD Dissertation, Notable Distinction
NYU Chamber Music Society's Special Award for Leadership and Contribution
NYU Travel Grant for International Seminar in Berlin
Professional Societies
CMS College Music Society
Chamber Music America

Musica Mundana Chamber Music Society
International Conferences
2016 CMA- Chamber Music America: Presentation of the Chamber Music Society, Musica Mundana, January 2016

2015 The World Piano Conference: Novi Sad, Serbia. Lecture on the Performance and Technical Challenges in Debussy's Piano Etudes, June 2015
2013 College Music Society International Conference: Buenos Aires, Argentina. "From Buenos Aires to Istanbul: the Journey of Tango in Distant Lands." June 19, 2013
2013 International Conference organized by the Light Millennium and the College of Arts and Letters at the Stevens Institute of Technology. "Pioneer of the Millennium Development Goals: Ataturk, Creating a Universal language in Turkish Musical Culture." April 20, 2013
Selected Publications
Journals
Aysegul Durakoglu. "Turkish Traditional and Polyphonic Music through Multi-Cultural and Political Conflicts", Article, Vol. 1, No.2, Contemporary Turkish Culture, 2008.
Aysegul Durakoglu. "Ataturk and Modernization of Turkish Music", Voice of Official Publication of the Ataturk Society of America (Fall Issue).
Courses
HMU 350 Music of the Eastern Mediterranean
HMU 496 Music Performance: Private Lessons
HMU 497 Music Performance: Recital
HMU 101 Music History I
HMU 102 Music History II
HMU 220 Piano Class I
HMU 221 Piano Class II
HMU 322 Piano Class III
HMU 324 Piano Class IV